Monday, August 30, 2010
Victory Motorcycles is a motorcycle manufacturer based in Minnesota, United States, which began production of its vehicles in 1998. Its parent company, Polaris Industries, created the firm following the modern success of Harley-Davidson. Victory's motorcycles are designed to compete directly with Harley and similar American-style motorcycle brands, with V-twin engines and touring, sport-touring, and cruiser configurations. The first Victory, the V92C, was announced in 1997 and began selling in 1998. Victory has been modestly profitable since 2002.
victory motorcycles gallery
victory motorcycles jackpot
top victory motorcycles
victory motorcycles photo
victory motorcycles hammer
Sunday, August 29, 2010
The Honda Magna was a cruiser motorcycle made from 1982 to 2003 powered by Honda's V4 engine taken from the VF/VFR. The engine technology and layout was a descendant of Honda's racing V4 machines, such as the NS750 and NR750. The introduction of this engine on the Magna and the Sabre in 1982 was milestone in the evolution of motorcycles that would culminate in 1983 with the introduction of the Interceptor V-4.[1] The V45's performance is comparable to that of Valkyries and Honda's 1800cc V-twin cruisers. However, its mix of performance, reliability, and refinement was overshadowed by the more powerful 1,098 cc "V65" Magna in 1983.
honda magna
honda magna images
honda magna
honda magna pics
honda magna photo
Posted by

Manda
at 4:18 AM
No comments:

honda hero scooter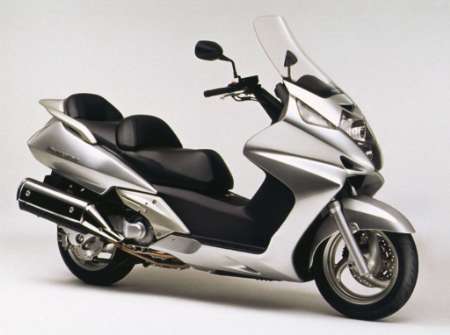 honda scooter pictures
honda scooter images
honda scooter fuel
honda scooter novit
honda scooter photo
Posted by

Manda
at 4:08 AM
No comments:

The Honda Valkyrie is a motorcycle that was manufactured by Honda, from model years 1997–2003. It was designated GL1500C in the US market and F6C in other markets.
Honda F6C model 1997
The Valkyrie engine is a 1520 cc horizontally-opposed six cylinder liquid cooled boxer engine transplanted from Honda's Goldwing model. This was unusual since most "cruiser" style motorcycles were based on a V-twin engine design similar to the engine of a Harley-Davidson. In its transplant from the Goldwing, the most notable engine changes were the camshaft and the change to six individual 28 mm carburetors, one for each cylinder. These changes were made to increase power and torque. These changes also gave the engine a little more character by giving it a unique sound.
The Valkyrie was offered with a reverse gear in Japan. The Valkyrie was made in the U.S.A. at the Honda motorcycle plant in Marysville, Ohio.
honda valkyrie
honda valkyrie jeff
honda valkyrie image
honda valkyrie s400
honda valkyrie arp
honda valkyrie images
honda valkyrie
Posted by

Manda
at 3:49 AM
No comments: